Issue 2 May-August 2018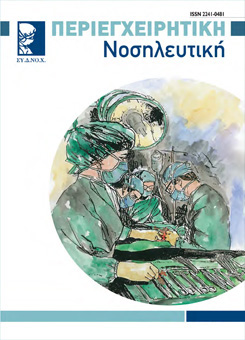 Contents
Editorial Article
Friday, January 5, 2018
Pages: 78-80
Cardiac pacemaker is a device largely used to the treatment of heart rhythm problems.1 Though the first pacemaker was implanted in 1950, it is estimated that 3 million people worldwide have a pacemaker and about 600 thousand pacemakers are implanted annually.2,3 In 2004, about 179.000 new pacemakers were implanted the United States 4 while in Australia,
Review Paper
Tuesday, May 1, 2018
Pages: 81-88
Introduction: Elderly people with dementia present complex needs and the challenges in their care may make the caring staff in long term caring settings vulnerable to the development of burnout because of the emotional and physical drainage they undergo. Purpose: of this study was to examine the factors that contribute towards the development of burnout of professional caregivers of elderly people
Review Paper
Andriopoulou Maria, Mpellou Paraskeui, Dalamaga Dimitra
Friday, January 5, 2018
Pages: 89-105
Introduction: In recent years the role of nurses has been very important in providing health care. Aim: The purpose of this review was to promote the importance of nurses' role. Method and Material: The methodology followed included reviews and research studies. The studies were carried out during the period 2000-2016 and were drawn electronic databases, (Google Scholar, Sciencedirect, EBSCO).
Review Paper
Dousis Evangelos, Evagelou Eleni
Friday, January 5, 2018
Pages: 106-118
Introduction: The management of the postoperative pain in children is an important part of nursing practice and a major challenge for hospitalized children, their parents, family and health professionals, especially nurses. Children continue to experience significant post-operative pain despite the efforts made by nurses with severe effects on their post-operative health. Purpose: The review of
Review Paper
Giannopoulos Georgios, Kelesi Martha, Vasilopoulos Georgios
Tuesday, May 1, 2018
Pages: 119-132
Introduction: Diabetic foot ulcers present one of the most serious complications of diabetes mellitus with adverse psychosocial, as well as economical effects on modern society.Patient education, is particularly important, as it plays a key role in the prevention of diabetic ulcers. Aim: The aim of the present systematic review, was the investigation of the education of diabetes
Original Paper
Koutelekos John, Zartaloudi Afroditi, Vassalos Constantine, Dousis Evangelos, Polikandrioti Maria, Vassalou Evdokia, Chalasios Nikolaos
Friday, January 5, 2018
Pages: 133-144
Objective: To explore characteristics of today's Greek teenagers with thalassaemia, a hereditary disease, associated with the possibility of developing depression. Material and methods: Study sample consisted of 74 thalassaemic teenagers. Data collection was conducted using the "Children Depression Inventory" (CDI) and a questionnaire on teenage thalassaemic patients' characteristics (socio-demographic;
Original Paper
Tsami Athanasia, Theoni Theoni, Mamoureli Aggeliki, Staikoglou Stauroula, Papadopoulou Aggeliki
Tuesday, May 1, 2018
Pages: 145-151
Nurses play an increasingly prominent role in cardiac pacing during both the inpatient and the outpatient phases of care and they may foster positive attitude to this implanted device. Aim: of this research was to explore perceptions of patients living with a permanent cardiac pacemaker dual-chamber (PMs-DDD) aged over 60 years. Material and Methods: The sample of the study consisted