Issue 2 April-June 2020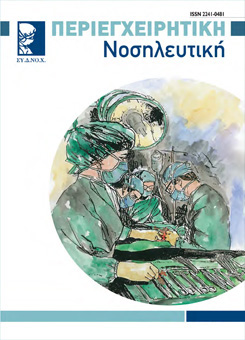 Contents
Editorial Article
Wednesday, April 1, 2020
Pages: 57-60
No abstract available.
Review Paper
Roussos Spyridon, Mpompota Konstantina
Saturday, January 4, 2020
Pages: 61-68
Introduction : Diabetic foot ulcers (DFUs) is the most common complication of diabetes mellitus (DM) with life time risk up to 25% of cases. DFUs are associated with increased mortality, high risk of amputation, recurrence of ulceration, poor quality of life and elevated levels of anxiety.  The aim of this study was to review factors associated with anxiety among patients with DFUs. Material and
Review Paper
Mangita Ansriana, Makri Alexandra
Saturday, January 4, 2020
Pages: 70-75
Introduction: Emerging and re-emerging infectious diseases are an important burden for global economies and public health. Their occurrence is believed to be largely driven by socio-economic, environmental and ecological factors. Purpose: To explore evolution of emerging and re-emerging infectious diseases infectious diseases, which are still critical for public health.Material and Method: A thorough
Review Paper
Wednesday, April 1, 2020
Pages: 76-83
Introduction: Burns constitute the leading cause of morbidity and mortality in infants, children and adolescents, as they rank in third position among deaths. Purpose: To explore nutritional support in children with severe burns. Methodology: A bibliographic research was conducted from the international PubMed online database for the period 2014-2019 in English. Results: Pediatric patients with severe
Original Paper
Bonikou Maria, Kotanidou Anastasia, Vasilopoulos Georgios, Toulia Georgia, Michopanou Nektaria, Kalogianni Antonia
Wednesday, April 1, 2020
Pages: 84-101
Introduction: Postoperative Bleeding (PB) is the most common complication after cardiac surgery but is accompanied by negative outcomes. Aim: was to investigate the factors associated with an increased risk of PB in patients after cardiac surgery. Material and Methods: The sample of the study was patients who were admitted to the Cardiothoracic Surgery Unit of a general hospital after cardiac surgery.
Original Paper
Chatz;oglou Anastasia, Dalageorgou Christina, Fousteri Natassa, Koutelekos John, Dedes Vasileios, Evagelou Eleni, Dousis Evangelos
Wednesday, April 1, 2020
Pages: 102-117
Introduction: Admission of a child to a hospital triggers a number of problems in the daily life of parents, such as uncertainty about the child's health, anxiety about hospital stay or other practical and economic problems that cause emotional burden, such as anxiety. Purpose: To explore levels of state and trait anxiety that experience parents of hospitalized children and the associated factors.
Original Paper
Moudatsou Maria, Vouyiouka Panayiota, Karagianni–Hatziskou Eleni, Koukouli Sofia, Stavropoulou Areti
Saturday, January 4, 2020
Pages: 117-125
The proposed study design constitutes an attempt to associate social capital and its dimensions with cervical cancer prevention in a sample of female nursing and social work university students. Aim: To investigate the knowledge and adequate use of the cervical cancer prevention test (Pap test) in young female university students in relation to their social capital and its parameters. Material and
Short Review Article
Saturday, January 4, 2020
Pages: 128-130
Not available.