Issue 4 October-December 2020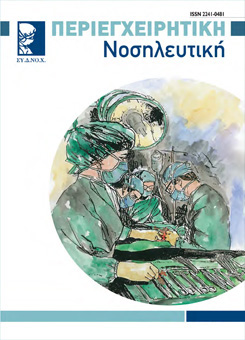 Contents
Editorial Article
Thursday, October 1, 2020
Pages: 218-2020
Not available.
Review Paper
Douki Stamatina, Koutelekos John
Thursday, October 1, 2020
Pages: 221-232
Introduction: Expressed Emotion (EE) is a widely used construct to understand the interaction of the patient's relationship with his family members.Aim: The aim of this study is to explored the importance of Expressed Emotion (ΕΕ) and its components and its contribution to the recurrence of patients with schizophrenia in various cultural contexts.Methodology: The methodology followed included searching
Review Paper
Stratakis Eleftherios, Mantzorou Marianna, Kalemikerakis Ioannis, Kavga Anna, Plakas Sotirios
Thursday, October 1, 2020
Pages: 233-245
Introduction: Dementia is a chronic disease that causes severe disturbance of the higher mental functions with problems in the patient's daily, professional and social life. Caring for people with dementia is associated with high levels of burden, depression, and poor quality of life for caregivers. Aim: The purpose of this systematic review was to identify the most recent information available regarding
Original Paper
Thursday, October 1, 2020
Pages: 246-260
Introduction: One of the major causes of loss of life is considered to be road accidents. Nevertheless, attention is given to the comprehension and evaluation of the consequences on the life of the injured people from car accidents, which is determined by the type as well as by the size of injury, leading in many cases to a disability.Aim: Tο explore depression three and six months after the occurrence
Review Paper
Bouzoukis Dionusios, Grammenou Georgia
Thursday, October 1, 2020
Pages: 246-254
Background: Cardioplegic solutions are widely used for myocardium protection during cardiac surgery. Custodiol cardioplegia has begun to gain popularity in recent years in cardiac surgery because of its administration, in a single dose, providing protection for 1.5 - 2 hours. Purpose: of this study was to review the current literature related to the Custodiol efficacy on the protection of myocardium
Original Paper
Toska Aikaterini, Saridi Maria, Latsou Dimitra, Koutelekos John, Kottara Georgia, Geitona Mary
Thursday, October 1, 2020
Pages: 261-277
Introduction: Studies have shown that surgical team members' attitudes about safety and teamwork in the operating room may play a significant role in patient safety. Purpose: The assessment of attitudes about teamwork and safety among physicians and operating room nurses. Methodology: The study took place in the fall of 2019. The study tool was the Operating Room Management Attitudes Questionnaire
Special Article
Sekeroglou Eleni, Tsalamata Konstantina, Sakiqi Jona
Thursday, October 1, 2020
Pages: 287-292
Amputation is a major global health problem that affects the lives of patients and their caregivers in a long term basis. Due to the multiple  responsibilities undertaken by caregivers,  they experience various levels of burden. The purpose of this special article was to explore  the burden experienced by caregivers of amputees. The methodology followed included searching for research data, which
Special Article
Kalogeropoulou Agathi, Koutelekos John, Dousis Evangelos
Thursday, October 1, 2020
Pages: 293-307
Introduction: Cancer is the second leading cause of death in children. Its treatment include chemotherapy, surgery or radiation therapy, alone or in combination. One of the most well-known symptoms of chemotherapy in children is nausea and vomiting, which negatively affect their health and the progress of treatment. Several nursing interventions have been supported to prevent and treat them. The
Special Article
Fountouki Antigoni, Paralikas Theodosios, Theofanidis Dimitrios
Thursday, October 1, 2020
Pages: 308-318
The main objective of qualitative research is to improve the depth of understanding about issues of concern which are of particular value when conducting studies on health care issues. The qualitative methodology of ethnography is the study of a specific group or culture being explored in-depth. Its validity refers to whether the ethnographer's interpretation of the data is what it means to those
Short Review Article
Thursday, October 1, 2020
Pages: 319-321
Not available.