Issue 3 July - September 2020 under publication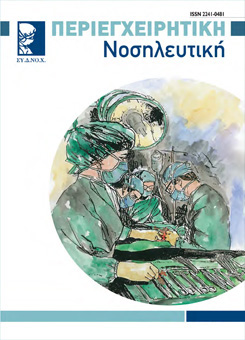 Contents
Editorial Article
Wednesday, July 1, 2020
Pages: 131-133
Review Paper
Wednesday, July 1, 2020
Pages: 134-140
Introduction: Caring for people with chronic mental illness is a difficult process with a host of negative effects on the mental and physical health of caregivers. Aim: Το explore  the physical and mental burden of caregivers in patients with mental illness. Methodology : A bibliographic research was performed in the electronic data base "pubmed" using the key-words: Caregivers' burden, social support,
Review Paper
Valis Eleftherios, Dousis Evangelos
Wednesday, July 1, 2020
Pages: 141-149
Summary: Radiation therapy is an effective treatment for cancer but has significant side effects on patients, as it causes damage not only to cancer cells but also to normal ones. Among the lesions are post-therapy skin lesions that significantly affect patients and the quality of their life. Purpose: Το explore the literature regarding treatment and care of post-radiation therapy skin lesions with
Review Paper
Douki Stamatina, Koutelekos John
Wednesday, July 1, 2020
Pages: 153-160
Introduction: Schizophrenia is a chronic mental disorder whose effects over time have a devastating effect on patients and as well as their family members. Aim: The aim of this study was to explore the burden of family caregivers of people with schizophrenia. Methodology: The methodology followed included searching for research data, which was collected through electronic databases PubMed, Google
Review Paper
Iordani Moschoula Mina, Martinis Ilias, Sekeroglou Eleni
Wednesday, July 1, 2020
Pages: 158-164
Sulfuric acid attack (vitriol) is a global phenomenon that is growing alarmingly and varies from culture to culture. Sulfuric acid assault is common in developing countries, but this does not mean that no cases are reported in developed countries.The purpose of this review was to explore the phenomenon of sulfuric acid attack (vitriol) and the first aid need to be provided to the victim. Methodology:
Original Paper
Tsirigotis Stavros, Benetou Sophia, Gerogianni Georgia, Alikari Victoria, Drakopoulou Marianna, Stavropoulou Areti
Wednesday, July 1, 2020
Pages: 163-174
Introduction: In recent decades, the number of patients undergoing dialysis has beeb increased dramatically, worldwide. This treatment method imposes a significant burden on patients, their families and the National Health System of each country. Purpose: To explore  the characteristics of patients undergoing dialysis.Material and Method: This was a descriptive study on a convenience sample of 100
Original Paper
Ntelezos Konstantinos, Kyriakopoulou Georgia, Karavasili Marianna, Giannakas Athanasios Marios, Delitzakis Dimitrios, Koutelekos John, Vergadou Chrysavgi
Wednesday, July 1, 2020
Pages: 175-187
Introduction: The application of piercing creates concerns, about the hygiene applied in the various parts of the body and the information of users about the dangers it poses for their health. Purpose: The quantitative measurement of the microbial load at the points of application of piercing, as well as the investigation of the level of knowledge about various aspects of piercing application, among
Original Paper
Karavitis Panagiotis, Dedes Vasileios, Andriopoulos Panagiotis, Tsironi Maria, Rojas Hill Andrea Paola, Panagiotou Aspa, Panoutsopoulos4 GeorgiosI.
Wednesday, July 1, 2020
Pages: 188-198
Introduction: Gastric polyps are found accidentally in an upper gastrointestinal endoscopy. Hyperplastic polyps and adenomas occur in areas where Helicobacter pylori infections are common. On the contrary, in western countries, they appear mainly as cystic glands, where H. pylori infections are less common. Colic polyps are lumps of mucus to the lumen, and when they are too large, they can form intestinal
Original Paper
Metallinou Dimitra K., Mantziou Elpida G., Tzavara Chara K., Dagla Maria I., Lykeridou Aikaterini E., Kastanioti Aikaterini K.
Wednesday, July 1, 2020
Pages: 199-214
Introduction: The measurement of health-related quality of life (HRQoL) aims at the holistic assessment of health of an individual or a population.Aim:Investigation of the HRQoL of healthcare professionals (HPs) who work in Neonatal Intensive Care Units (NICU) as well as its possible association with specific individual, demographic and occupational characteristics.Material and method:The research
Short Review Article
Wednesday, July 1, 2020
Pages: 215-217
NOT AVAILABLE