Issue 2 April-June 2021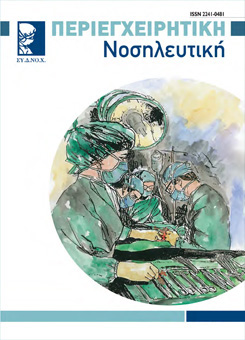 Contents
Editorial Article
Thursday, April 1, 2021
Pages: 116-118
Not available
Review Paper
Thursday, April 1, 2021
Pages: 119-130
Introduction: Schizophrenia is a chronic mental disorder. It is characterized by disorders in thinking, perception, mood and behavior, while at the same time there may be a reduction in functionality resulting in severe disability and requires lifelong care that significantly burdens the family and public health.Aim: The aim of this study was to investigate the factors that contribute to
Review Paper
Thursday, April 1, 2021
Pages: 131-147
Introduction: Bullying and victimization has received extensive scientific attention during the last years, on a global scale. During the last years, research has focused on the participation of College and University students, who face great risk of being involved in the phenomenon. Aim: The purpose of the present study is to review the existing studies regarding the participation of College
Review Paper
Thursday, April 1, 2021
Pages: 148-158
Introduction: Chemotherapy is an important treatment option for children with leukemia. However, its complications are multiple, including stomatitis, which adversely affects the treatment, care and health status of children. The aim of the study was to summarize the nursing interventions for the prevention and care of chemotherapy-induced stomatitis in children with leukemia. Methodology:
Original Paper
Thursday, April 1, 2021
Pages: 168-176
Ιntroduction: Surgery is a stressful experience for children and families, but important is the recovery period after the surgery.Purpose: This study was conducted to examine the recovery process of children after surgery.Methods: This descriptive type study was conducted on 274 pediatric patients who had urgent and planned surgery other than major gastrointestinal surgery and agreed to
Original Paper
Thursday, April 1, 2021
Pages: 177-192
Introduction: The increase of job satisfaction in mental health nurses, working in community mental facilities, helps them to become more efficient and understand the needs of individuals suffering from mental health problems.The aim of the present study was to investigate sociodemographic and job characteristics, as well as the level of professional satisfaction of nurses working in psychosocial
Original Paper
Thursday, April 1, 2021
Pages: 193-207
Introduction: Breast cancer diagnosis brings to women's life massive change that lead to a plethora of emotions such as uncertainty, fear of disease progression and inability to adjust to the new situation. These appear to play a pivotal role in life and reintegration for women who are diagnosed with breast cancer. Aim: To explore the experience of women who were diagnosed with breast cancer.
Original Paper
Thursday, April 1, 2021
Pages: 208-219
Introduction: The parents experience difficulties children with Autism Spectrum Disorder. Objective: The study of the subjective experience and difficulties experienced at home by parents of preschool children diagnosed with Autistic Spectrum Disorder (ASD). Μethod and Μaterial: Qualitative research with a sample of 6 parents, all residing in the wider Athens area. Data collected with unstructured
Special Article
Thursday, April 1, 2021
Pages: 220-224
Not available
Short Review Article
Thursday, April 1, 2021
Pages: 225-226
Not available