Volume 3 September-December 2016 online first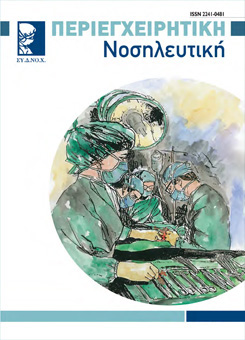 Contents
Editorial Article
Thursday, September 1, 2016
Pages: 125-129
Στην Ελλάδα, τα προβλήματα των νοσοκομείων, που συνεχίζουν ακόμα και σήμερα, να ταλανίζουν την χώρα προέκυψαν από την οικονομική κρίση, τα μνημόνια και συνίστανται κυρίως στην μειωμένη στελέχωσή τους σε νοσηλευτικό προσωπικό, τόσο λόγω του μεγάλου αριθμού συνταξιοδοτήσεων όσο και λόγω των μειωμένων προσλήψεων. Παράλληλα ένα άλλο θέμα εθνικού προβληματισμού αποτελεί η δημογραφική γήρανση του
Review Paper
Kokolakis Michail, Koutelekos John
Saturday, January 9, 2016
Pages: 130-153
Traumatic brain injury is a major cause of serious harm­­ and death in children under the age of 15. The injury affects not only the patient, but also impacts heavily on close relatives. Caring for victims with traumatic brain injury is perhaps the most difficult of many professional challenges for nursing staff, requiring both technical and skills and sensitivity to the needs of the relatives.
Review Paper
Saturday, January 9, 2016
Pages: 154-165
Introduction: General rules govern the health services market, as it happens with every market. Constitutional rules of the markets are the quality assurance via the continuous improvement of the quality of services in accordance with the rational allocation of resources, and the role of evidence based practice in healthcare is of outmost importance, influencing a lot the quality of care
Review Paper
Lera Maria, Taxtsoglou Kiriaki
Saturday, January 9, 2016
Pages: 166-174
Introduction: Crohn's disease belongs to a group of conditions known as idiopathic inflammatory bowel disease (IBD). The purpose of this review was to list information about Crohn's disease that occurs in pediatric patients. Methodology: The study material has recently been articles on the topic were found mainly in the electronic database Medline and the Association of Greek Academic
Review Paper
Bitsiori Zoi, Balaska Dimitra, Dimogerontas George, Bozagregos Ilias
Thursday, September 1, 2016
Pages: 175-187
Introduction: Over the centuries the medical and broader sector of Health developed, made important inventions and discoveries, but never stopped the Health sector is timely. Every time there was a possible treatment of any disease, another disease appeared to be afflicted mankind. This requirement, therefore, of our time mainly focused on early diagnosis, the immediate intervention and prevention.
Review Paper
Katsaras George, Kourlaba Georgia
Saturday, January 9, 2016
Pages: 188-218
Introduction: The episodes of violence and aggression in schools is a common and growing in frequency phenomenon. Research has shown that the engagement with school bullying is a major risk factor as far as suicidal ideation and suicide attempts are concerned. The aim was to review literature about school bullying and cyberbullying as well as the suicidality in children and adolescents.
Original Paper
Sklavou Evangelia, Tzouvadakis Ioannis
Saturday, January 9, 2016
Pages: 219-248
Introduction View is fundamentally important to the healing process, well-being and consequently the cost of care. Unobstructed view has been connected to more frequent satisfaction and comfort, as well as higher threshold to discomfort. Τ he aim of the study was to investigate the role of sight in the evaluation of the architectural environment of patient room settings. Method View access
Original Paper
Liritzi Maria, Govina Urania, Nestor Athanasia, Polikandrioti Maria
Thursday, September 1, 2016
Pages: 249-267
Introduction: Pulse oximetry is a non invasive method which determines the saturation of hemoglobin in oxygen and is early detecting hypoxic episodes. The aim of the present study was to evaluate nurses' knowledge working in Intensive Care Unit (ICU) regarding pulse oximetry. Method and material: The sample of the study consisted of 206 ICU nurses in 5 general
Special Article
Thursday, September 1, 2016
Pages: 268-281
Introduction: The natural disaster is the probability of a potentially catastrophic event that happened within a period of time and in a particular geographic area. Purpose: The purpose of this study is the literature investigating the effect of natural disasters on health.Material and Methods: It was conducted a review in researches in Greek and international databases (Medline and