Issue 3 September-December 2017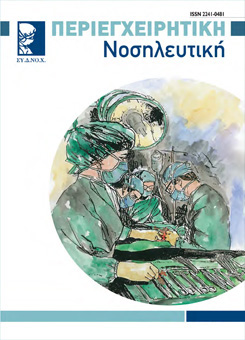 Contents
Editorial Article
Friday, September 1, 2017
Pages: 124-126
Για να κατανοήσουμε την νοσηλευτική είναι ανάγκη να εμβαθύνουμε στους φιλοσοφικούς προβληματισμούς που ξεκινούν από βαθύτερες έννοιες που αναφέρονται στον Αριστοτέλη ως ΄΄ποίηση και πράξη΄΄. Η χρήση των Αριστοτελικών εννοιών, της ποίησης και της πρακτικής, βοηθούν να ερμηνευτούν οι δυσκολίες που αντιμετωπίζονται στην νοσηλευτική καθημερινότητα με σοφία, με εμπειρία στην εξερεύνηση για το τι είναι
Review Paper
Brenta Georgia, Rompolas Periklis
Monday, January 9, 2017
Pages: 127-138
Introduction: There are several types of enterostomy, that result in the formation of the stoma and are related with bio-psycho-social effects on the patient's and his family's life. The role of the nurse in promoting the rehabilitation and self-care of these patients is multidimensional. More specifically, its fields of action include patient education in the care of the stoma and its device,
Review Paper
Mamoureli Angelliki, Tsempeli Anastasia
Friday, September 1, 2017
Pages: 139-147
Given the ageing of population and the advances in diagnosis of coronary artery disease, the number of patients undergoing cardiac pacemaker implantation is constantly increasing. The aim of this study was to review the literature about anxiety and depression that experience patients with permanent cardiac pacemaker. Methodology: The study included exploration of research and
Original Paper
Malakou Theodora, Polikandrioti Maria, Vasilopoulos Georgios, Kelesi Martha, Zartaloudi Afroditi, Efstratiou Fragkoula, Koutelekos John
Friday, September 1, 2017
Pages: 148-157
A burn is a type of are tissue damage to the skin due to the effect of a harmful cause. Thepurpose of the study was to retrospectively record the characteristics of children who had been admitted because of burn to a pediatric hospital in Western Greece. Material and Method: The sample of the study consisted of 345 children with burn who were admitted to the Emergency Department
Original Paper
Kontogeorgou Ioanna, Varounis Christos, Vasilopoulos Georgios, Kelesi Martha, Fasoi Georgia, Stavropoulou Areti
Monday, January 9, 2017
Pages: 158-170
Introduction:A number of factors are positively or negatively related to the degree of satisfaction of nurses from their work. Thepurposeof this study was to explore the level of satisfaction of nurses working in Intensive Care Units (ICU) and in Emergency Departments (EDs) in Greece.Material and method:The sample of the study consisted of 151 nurses and nursing assistants working in ICUs and in EDs.
Special Article
Bitsiori Zoi, Balaska Dimitra, Konstantinopoulou Athanasia
Friday, September 1, 2017
Pages: 171-180
Introduction: A market is considered to be competitive when there is a large number of both buyers and sellers, each of whom has no power to influence prices, which are shaped by demand and supply. The a im of the present study was to explore whether health services can function as a competitive market and if so under what conditions. Methods: The methodology of the study included research